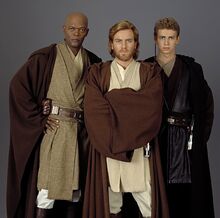 List of Jedi currently apart of our server lore. Jedi are part of the premium package. Earning lore Jedi must be earned by being active on your Jedi and being chosen by the council.
-Battalion/Lore Jedi- Edit
Non Aligned Edit
501st Legion Edit
212th Attack Battalion Edit
Galactic Marines Edit
104th Battalion Edit
327th Star Corps Edit
41st Elite Corps Edit
Luminara Unduli
Barriss Offee
Quinlan Vos
91st Recon Corps Edit
Doom's Unit
Shock Security Edit
-Custom Jedi-
Karn'Tor
Raul
Akrol Mune
Community content is available under
CC-BY-SA
unless otherwise noted.