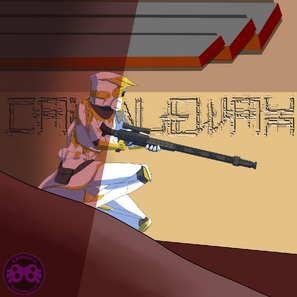 CT-1038 Candlewax
Edit
This clone's story, like all others, starts on Kamino.  Originally not much of a speaker.  Mostly just "Yes sir," and "No sir."  However, what he was lacking in communication, he made up for in observation.  He would hang in the back, seeing others go before him, while also looking ahead, gauging what's going on.  Him observing before acting has helped him through all of the tranings, and has caused him to be a little slower to act, however no less effective.
Once on a base, Candlewax had found a liking to a small bit of craft.  Once he had credits of his own and had a little bit of down time, he would buy candles, take them out of their containers, and with a few knives he had on hand, would carve into the wax into several different shapes and designs, based upon what he has seen over the course of everything he has done.  Originally just heads of droids from Simulations and from the Field, going onto the different heads and facial features of the clones, be they scars or mutations.  To Job Helmets and even Jedi Lightsabers.  In the beginning just crude and pathetic, however, as time has gone on, and he has gotten better utensils, they've gotten better and better.  Some of them even have different colours, and anything he's able to customize, like shelves or tables, is usually filled with these Candle Wax Sculptures.  This earned him his name.
Originally part of a different section of the 212th elsewhere in the galaxy, there is a mission that haunts him.  A mission where he and a squad were sent in to breach, fight their way in and out, and blow a CIS facility to pieces.  Going in was rough, losing half of the squad before reaching the point to set charges, and once they could, they went to leave.  A couple clones stayed behind, and the last of the squad fought their way out.  Candlewax was able to leave and escape far enough to survive the explosion, getting launched and thrown far off, hitting the side of a building and getting knocked out.
When he awakens, he is the last of the squad alive and resting in the Medbay of the Venator above the planet.  About this time, he meets another Clone, and this is the start of a strong friendship.  The Two soon eventually find their ways to Anaxes base, His friend before himself, and begin anew.
Candlewax starts off on a rough start in his new home, however, very quickly proves himself.  He has shown to have a knack for precision weapons and climbing, a good fit for an Advanced Recon Force (ARF) Trooper.  Of everything that has happened so far, Candlewax seems rather content in the positions he's acquired, and anything else given to him is simply the cherry on top.
Community content is available under
CC-BY-SA
unless otherwise noted.